Historic Pleasant Grove Church
Pleasant Grove Black History Month Event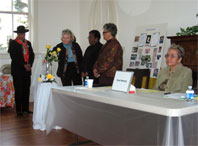 The 2008 ceremonial tribute to Black American Trail Blazers Mary McLeod Bethune, Lillian Smith Blackwell and Frances K. Moore, with the oral history table in the foreground.
Featuring Felicia Kessel Crawley and members of The Voices of Worship Community Choir
Every year during Black History Month (February), the Friends of Pleasant Grove host an evening of education and remembrance.
The program varies from year to year, with events including:
a guest speaker
an oral history table, where panelists offer poignant recollections and personal insights of the history of the church and its community
ceremonies in remembrance of leaders of the Black community, nationally and locally
an excellent exhibit of an antique Black Doll Collection
a musical medley of spirituals and Gospel music
Join us in our quaint historic setting for an uplifting afternoon of celebration with powerful poetry and rafter-raising music.
This year we will pay special tribute to two great men who passed recently: Nelson Mandela, activist and statesman; and Pete Seeger, whose rendition of We Shall Overcome became the anthem of the U.S. civil rights movement.
Check "Upcoming Events" to the right for information about our next educational and inspirational Black History Month event.